Lifescapes® Avian
Play Areas
_________________________________
All Lifescapes® Avian Play Areas consist of two vertical steel support tubes and a horizontal connecting tube (with many rings) completes a stable, adjustable framework for perching, accessories and hanging favorite toys!
Click on the photos for more choices, product prices and details or click on menu above.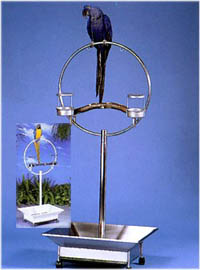 Stainless Steel Ring Stand pictured,
powder coated Ring Stand inset.

Toys
_________________________________
All birds need toys, not only to alleviate boredom, but to provide a valuable chewing exercise. Because the safety of your birds is so important to us, we at Animal Environments use no chains or dangerous clip-type devices. Our safe quick-link fasteners attach easily to our cages' built-in toy rings. As an added bonus, all our toy parts are completely replaceable, ensuring long life.
Click on photos for more product options and details, including prices.