The Company & Our Philosophy
_____________________________

As an exotic bird owner, you have a special relationship with your pet.
To live a long, happy life, your bird needs a home that is not only comfortable, but is also a safe haven from the many dangers presented by a low quality enclosure.
Indeed, some poorly designed birdcages are themselves a danger to your pet. Cheap toxic paints, improperly spaced bars, insecure latches, screws or tiny parts that can come loose and be swallowed, or pans so close to the cage bottom that fecal material can be reached, are all found in today's inferior cages. All of these can cause sickness or sudden death for your treasured pet.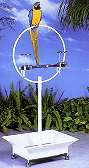 Even the dimensions of the cage itself must be carefully calculated for the size and unique exercise patterns of the bird that lives in it. For example, a blue and gold macaw's wingspan is more than three feet. At least two dimensions of his cage should exceed 40 inches in order to provide proper exercise space.
Even though Animal Environments birdcages are built to be the finest in the world, they are very competitively priced because they are built entirely in our own high-tech factory. Beware of cheap imitations. These cages are widely imitated, but they are never equaled. Be sure to compare all of our many quality and safety features. You will be very favorably impressed. And, each cage is backed by a full, five year warranty, the best in the industry. (Lifetime warranty on stainless steel cages.)