Unique Features
_____________________________

Feeder System
Made of medical-grade 304 stainless steel with a matte finish, our optional Feeder Systems attach to the outside of our bird's enclosure to maximize space inside. Special design features prevent birds from overturning their food or water. Also eliminates defecation into feeders, reducing the chance of bacteria-caused illness. The custom stainless steel dishes are easily serviced from outside the cage for your convenience. Complete feeder system is dishwasher safe. Up to two additional feeders are available with each cage and ringstand.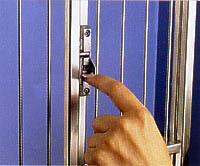 Uniquely Designed One-Piece Apron
Our apron extends 4-1/2" beyond perimeter of enclosure to catch falling seeds, feathers and other debris, thereby keeping the surrounding area free from messes usually associated with open cages.
Lexan Connector Pins
We have eliminated the nuts and bolts which can be hazardous to your bird, no tools are required.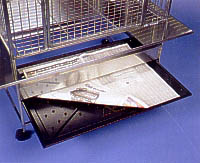 Important Options
Your stainless steel cage can be crafted in three ways: Fully welded, fully welded with interchangeable arch or playpen tops, or unassembled for transport as shown to the right.